In this continuing blog series, we explore the adoption challenges of risk-based monitoring (RBM) of clinical trials. So far, we've addressed the risk assessment process and centralized monitoring of analytics. In our latest post, we explore the broader challenges of organizational change that research teams face when moving to RBM.
The traditional clinical research team is organized with clearly defined roles for clinical, data management, and statistical teams. While these experts work collaboratively, responsibilities and accountabilities are clearly segregated, and have been established for decades. In a risk-based environment, there can be a diffusion of responsibility, and, hence, additional duties for teams. These changes in responsibility and effort are the root cause of the organizational challenges encountered.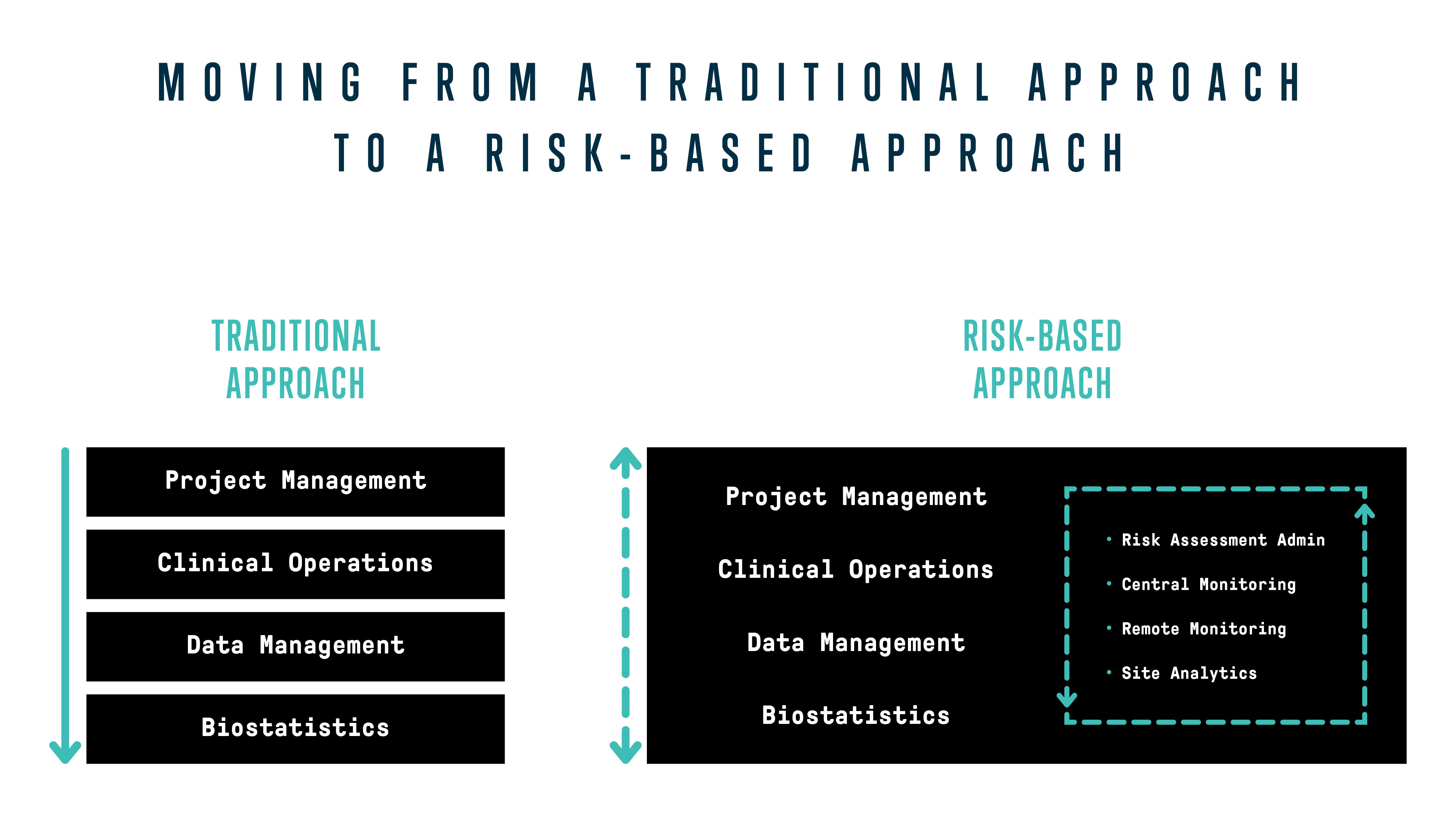 Industry guidelines for RBM
Risk-based monitoring practices are well-described within published materials from both the biopharma industry and related nonprofits such as TransCelerate. However, none presume to dictate the division of responsibilities across teams. Broadly speaking, we can expect increased activity for risk assessment, remote monitoring, and frequent review of sophisticated online analytics. In most cases, teams may also expect to conduct fewer onsite monitoring visits.
Typical RBM challenges across roles:
Project managers generally manage the risk assessment process and ensure that plans and workflows are established to manage detected risks. This is a significant addition to their typical workload, and hits at a time when they are the busiest – at project startup.
Stats teams may also encounter significant changes to their workload. As outlined in the previous blog, the statistics team faces earlier, in-depth participation in risk assessment work, requiring aggregation of data and development of reports using incomplete or dummy data.
The data management team may identify and resolve broader, systemic data problems, and may also expect to have more direct contact with site personnel.
The clinical operations team may experience the most profound changes. The expected reduction in in-person monitoring visits leaves the group with two choices – reduce staff or take on additional, new responsibilities. Both routes are disruptive, and within a clinical research organization, (CRO), can delay or prevent effective adoption of RBM.
Let's examine these influences within the CRO:
First, market demand for RBM is uneven. Some sponsors are reluctant to adopt, or unclear on what to ask for in terms of RBM, while others insist on an RBM approach. This creates both an uncertainty in how to proceed and additional effort to service both approaches.
Second, there's a strong belief that fewer monitoring visits reduce CRO revenue and margins. While most CROs promote innovation and invest in progress, we cannot ignore the drag that uneven demand and fear of lost revenue can place on the initiative. Research teams will need to need to carefully select executive sponsors who understand the long-term vision and these short-term business pressures.
Third, many stakeholders have an incomplete understanding of the risk-based approach. Most teams can claim to have used certain elements of RBM – such as targeted source document verification or a blinded review of statistical output. A few may claim that these efforts qualify them as having adopted RBM. "We already do that," is a common refrain in such cases, and for me, a sure sign that the team has a long path to full adoption.
How do we best travel our path to full RBM adoption?
First, decide to adopt and secure an executive champion to support and energize the team. A leader of the effort will not only understand the necessity and benefits of adopting the risk-based approach, but will also support and defend the team throughout the endeavor.
Next, recognize the obstacles. The RBM adoption leader will need to recognize each of the potential obstacles we've outlined above, and have a plan for meeting them. This adoption plan should follow best practices in change management and reflect the experience and knowledge of the leader and her colleagues. Begin by setting reasonable expectations, accounting for a learning curve, and expecting only gradual cost reductions.
Begin with small pilot studies that openly share the lessons learned, with frequent, wide and clear communication throughout the projects. This will enable better organizational understanding and response to the challenges.
Opt to bring in experienced help. Even though many organizations are still in the early stages of RBM adoption, there are individuals and teams with many years of valuable experience that can assist a more fluent transition.
Finally, understand your team. As with any change, you may have staff who are resistant to the effort. Identify them and attend to their concerns, while resolutely holding to the movement forward.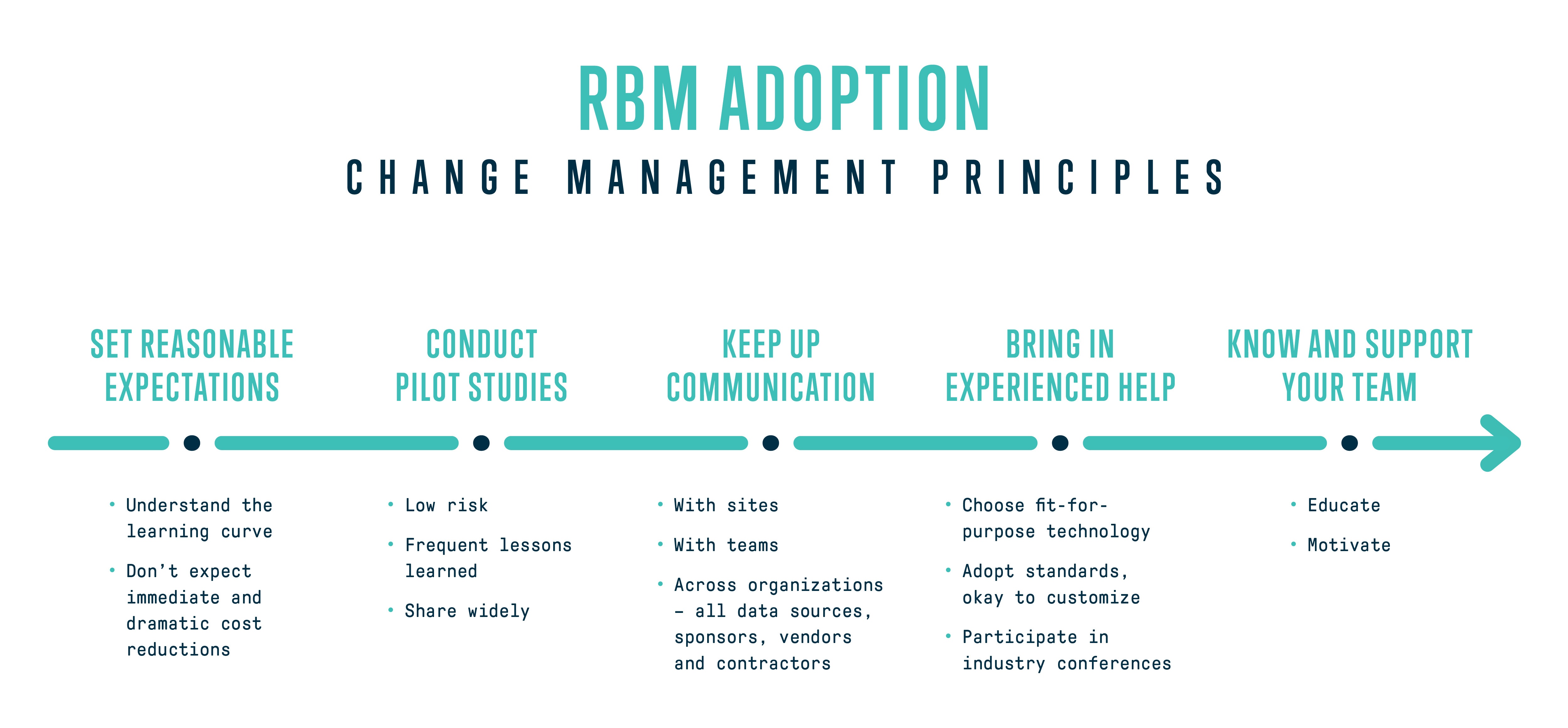 To learn more about meeting the organizational challenges of RBM adoption, contact Jens-Olaf Vanggaard. HighPoint's expert team can assist you with planning and implementing your RBM adoption at any stage. We offer full service, strategic support that augments sponsor and CRO research teams.